Welcome To Infored
What is internet do you know it
I think that is confusing for some people whom are not professional in ICT ( Information Communication Technology), but for Professional people that is cleared, so lets be Professional
The Internet is the largest Internet in the world. It is a three level hierarchy composed of backbone networks (eg ARPAnet, NSFNet, MILNET), mid-level networks, and stub networks. These include commercial (.com or .co), university (.ac or .edu) and other research networks (.org,....

for more information please visite
www.sqatester.com/glossary/index.htm

if this is very hard to understand you then please contact us soon
Do you know network cables
Cable is the medium through which information usually moves from one network device to another ( from one computer to another computer or any device). There are several types of cable which are commonly used with LANs( Local Area Network). In some cases, a network will utilize only one type of cable, other networks will use a variety of cable types. The type of cable chosen for a network is related to the network's topology, protocol, and size. Understanding the characteristics of different types of cable and how they relate to other aspects of a network is necessary for the development of a successful network.
The following section shows the types of cables used in networks.
· Unshielded Twisted Pair (UTP) Cable
· Shielded Twisted Pair (STP) Cable
· Coaxial Cable
· Fiber Optic Cable
· Wireless LANs
· Cable Installation Guides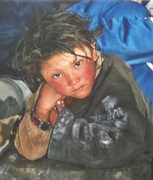 Above picture is Orphan picture from jail he needs help
Please Add your comments by clicking the comment link above and send us your feedback at wahidullah_m@hotmail.com